Home

Nieuws


Info Tibet


Info Stichting


Reizen


Dalai Lama


Himalaya


film Eric Valli


film scenes


Links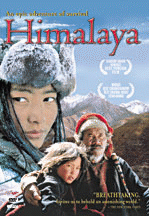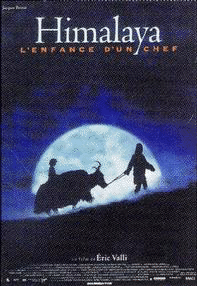 HIMALAYA
Eric Valli regisseur
| | | |
| --- | --- | --- |
| | Eric Valli | |
STATEMENT:
"The idea for the film came from the epic life of two of my best Tibetan friends. Both of them live in the Dolpo region, one of the highest, most isolated areas, deep in the Nepalese Himalayas. Protected by political and geographical barriers the Dolpo, a truly hidden country, guards the heart of untouched Tibet.
This film is a sort of western - a Tibetan western - a universal and timeless saga that tells the story of power, pride and glory that might have taken place, just as well, in the seas of Japan, in the Normandy plains or deep in the heart of Texas.
I have chosen not to speak about politics. Other directors, other writers have done it. I only wanted to show the life of these countrymen, their weaknesses, their beauty, their humanity. Norbou, my friend the painter says: "We had to make this film, as a testimony, before tradition melts away and vanishes just as the snow does under the sun".
Eric Valli, Director.

Eric Valli is also a photographer and an author. He has been living in Nepal since 1983 and his first journey through Dolpo (north west of Nepal) dates back to this period. He wrote several books about this country before shooting HIMALAYA in 1997/ 1998.
FILMS
THE HONEY HUNTERS OF NEPAL (1989) Co-produced by Eric Valli, Diane Summers, Alain Majani, with Antenne 2 and National Geographic Explorer. It won the International Documentaries Association Prize, First Prize in the Monte Carlo, Chicago and La Plagne Film Festivals.
SHADOW HUNTERS (1990) Co-produced by Eric Valli and Alain Majani with Antenne 2 and National Geographic Explorer. It was nominated for an International Emmy Award® - New York 1991, Academy Award® nominated for Best Documentary – Los Angeles 1992.
SELECTED BOOKS
- Tziba, My Village in Nepal (Larousse and McDonald- London)
- Dolpo, The Hidden Country (Le Chene - 1986)
- The Honey Hunters (Nathan - 1988) World Press Award 1988
- Mountain Worlds (National Geographic Society - 1989)
- Shadow Hunters (Nathan and Kodak and Thomassen and Grant Ð 1990)
- Children of the Dust - World Press Award 1991
- Himalayan Caravans - (Editions La Martiniere- 1997)

Eric Valli is regularly published in National Geographic Magazine, Geo, Life, The Sunday Times Magazine and Smithsonian.